Welcome to Sweet Symphonie Custom Catering! Our Chicago-based catering group was founded by two diverse cooks who love to create and share delicious food and truly enjoy the catering experience. Ellie Carlson and her partner, Mark Howe, have been creating unique dishes with emphasis in vegetarian and various ethnic cuisines for many years. Together they have built an energetic, creative approach to catering that features notes of both sweet and savory foods that come together in concert to make your event truly special.



Ellie Carlson is a multi-talented person with
a wide range of interests. She is an actress who creates and performs compelling historical characters, who appear in costumes of her own design and making. She is also a museum curator, a mother (to humans and a German Shepherd Dog) and the "Boss Lady" of a vintage baseball team: The Chicago Salmon. In addition to all that, she is also the CEO and founder of an up-and-coming technology company, Green Guestbook Inc. Check it out at www.greenguestbook.com.
Ellie is our lead on everything sweet or baked
at SSCC. From custom, hand-painted cookies to elusive light southern breads or amazing desserts that cannot be found elsewhere, she makes every Sweet Symphonie catered occasion one to enjoy, talk about and remember.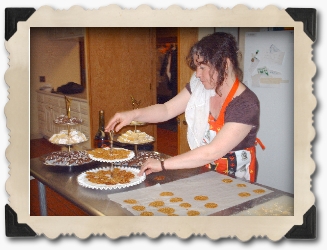 Mark Howe has a completely different background with food as his passionate diversion. His career is as an entrepreneurial producer of interactive software and films. He first taught himself to cook as a young vegetarian an embarrassing number of years ago. He developed a keen interest in many ethnic cuisines and decided to master their diverse flavors. If you desire Indian, Thai, Italian, Cajun or Mexican gourmet flavors, you will not be disappointed in his efforts. Mark provides the "savory" element of SSCC. He is also a dog breeder (German Shepherds, Doberman Pinschers), a musician and a writer.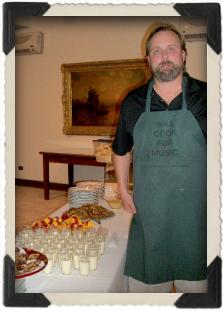 Ellie and Mark enjoy working closely with our clients to design custom menus and deliver culinary experiences that result in memorable, one-of-a-kind events. We always encourage our customers to request favorite dishes or to make special requests, and to challenge us with any dietary restrictions or needs they may have. Explore our website to learn how we go about working successfully with our diverse clientele and strive to make each event the best possible experience.